Weekend Route: Moscow – Sergiev Posad – Weekend in the countryside
I launch a new series on how to spend a day or a weekend outside of Moscow. In this first post I am going to tell you about interesting places that are worth seeing in the Yaroslavl direction – beaches, manors, ancient churches and other.
Moscow 2. Mytishchi 3. Pirogov Reservoir 4. Pushkino 5. Sofrino 6. Muranovo 7. Abramtsevo 8. Sergiev Posad 9. Lake Torbeevo 10. Alexandrov
How to get to Sergiev Posad
By car along the Yaroslavskoye highway. There may be traffic in Moscow and near its borders especially for the first 15 kilometers before you reach Pushkino.
By suburban train from Yaroslavsky railway station to Sergiev Posad or to Alexandrov. Travel time is about one and a half hours.
The trip details
132 ruble is a suburban train ticket to Sergiev Posad
60 kilometers from Moscow to Sergiev Posad
110 kilometers from Moscow to Alexandrov
8 interesting stops along the way
55 rubles is the entrance ticket to the estate "Abramtsevo"
700 rubles – lunch for two in Sergiev Posad
On the way to Sergiev Posad – Places to stop by
Mytischi
Mytischi city startis right behind the Moscow Ring Road. There you can find one truly interesting attraction – the graceful Annunciation Church in Taininsky. The church was built in 1677 and it is the only thing left of the Taininsky Palace. In 17th century the kings used to come here and spend a night on the way to the Trinity-Sergius Lavra. The palace itself burned down in 1823. Hopefully one day it will be re-created as a tourist site, at least the government has such plans to rebuild it.
Next to the church you will see a monument to Nikolay The Second made by Vyacheslav Klykov. It was installed in 1996, and less than a year later it was blown up with dinamites by members of an extremist group "Revolutionary Military Council". A new monument was made only in 2000.
Pushkino
In Pushkino city, despite its very respectable history (since 1499), there is nothing to see. So I suggest you to go directly to the next stop of the route.
After you pass Pushkin city, the highway will be surrounded by open spaces. The urban landscape will change to an almost rural one, full of forests and fields. It becomes much more pleasant in my opinion.
Sofrino
One more optional stop can be made in Sofrino. This is a small settlement which is very important for the Russian Orthodox Church. In Sofrino they manufacture candles, church utensils and clothes, books and icons, souvenirs. There is a museum and a shop. More information here .
If you go by train, you have to go down at the station called "Sofrino".
Muranovo estate
If you drive a little further behind Sofrino and pass through the village of Ashukino, you can get to the Muranovo estate.

A poet Yevgeny Baratynsky spent in Muranovo every summer from 1828 to 1843. He built the main house which unfortunately was badly damaged in 2006 by a fire.
Since 1869 Ivan Tyutchev, the son of a famous poet Fyodor Tyutchev, owned the estate. Father himself came there only once. But for some reason his all heritage is gathered there. So now the estate is a museum of Fyodor Tyutchev.
If you are traveling by train, go to Ashukino station and then take a bus number 34 or a mini-bus.

Church of the Savior in Abramtsevo. Built according to the drawings of Vasily Polenov and Viktor Vasnetsov


"A Girl with Peaches" Valentina Serova was written in Abramtsevo, the daughter of Mamontov, Vera, posed
Abramtsevo manor
Another remarkable manor of the direction is "Abramtsevo" (by train – the Abramtsevo station). Since 1843 a writer Sergey Aksakov was the owner of the manor and in 1870 changed to Savva Mamontov who was also buried here. During Aksakov ownership the estate was a center for literature. And during Mamontov time it became a center for art: Repin, Vasnetsov, Polenov, Vrubel, Levitan, Serov lived and worked there. There is a tiny church of the Savior, several charming wooden houses and a pond with a few small islands and bridges where you can have a pleasant walk. The main house is closed for restoration, but several art exhibitions operate in the outbuildings.
Sergiev Posad
The endpoint of the route is Sergiev Posad. The Trinity-Sergius Lavra was founded in 1337 by Sergius of Radonezh. This is one of the most important places for Orthodox Church and also a great examples of ancient Russian architecture and art. The paintings here were made by Andrei Rublev and Daniil Cherny and others. A Russian king Boris Godunov is buried there with his family.
Around the lavra and along the prospect Krasnoy Armii – the main street of the city – you can see old houses, including wooden ones with traditionally carved facades. You can take a break from the road and take a walk inside the walls of the lavra.
Alexandrov
The logical continuation of the route is Alexandrov in Vladimir region. The former name is Aleksandrovskaya Sloboda. It was a capital of oprichnina during Ivan the Terrible times. In 1564 the king moved to Alexandrovsky Kremlin, which is still preserved and you can see it.
Swimming – Get some fun in the water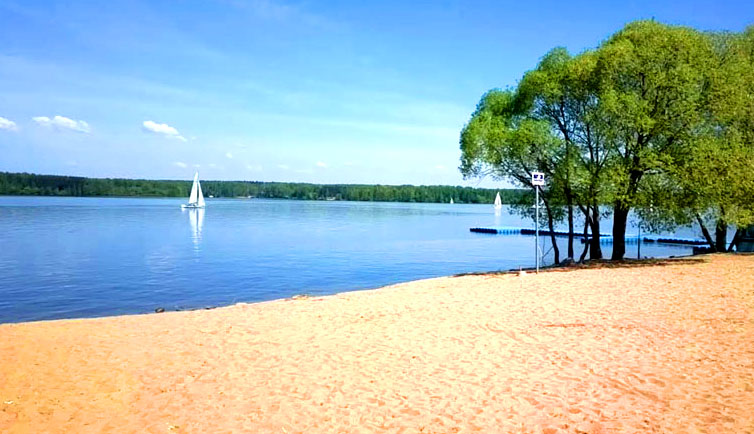 Pirogovskoye reservoir
Near Mytishchi city there is Pirogovskoye reservoir on the Klyazma River. It is one of the most popular places for beach holidays in the Moscow region. Along the coast there are a lot of recreation centers, restaurants, hotels, yacht and golf clubs etc.
The southern side of the reservoir (closer to Moscow) is considered more democratic while at the northern side you will find famous beaches "Bukhta Radosti" and "Flagman".
Prices to enter a beach start from 100 rubles per person (parking, rent of sun beds, are not included). But be aware that there are horrible crowds all summer.
Moreover if you want to do windsurfing, kite surfing or ride a jet ski all of those activities are available there.
It is better to get to Pirogovskoye reservoir by car, but it is also possible to go by bus through Mytishchi. Bus number 314 runs from the metro station "Medvedkovo"and takes about half an hour.Or you can take a train to Mytishchi station and from there transfer to the bus number 22.
Torbeevskoe lake
A much calmer place for a beach holiday is at the end of the route – the Torbeyevskoye Lake. Entrance to the beach is 100 rubles. There are no yachts or surfing – the lake is not big enough for them, but there are no crowds of people.
It is better to go by car (60 kilometers from Moscow), but you can also get a taxi from Sergiev Posad.
Food – Where to eat
There are various roadside cafes near the highway. But I wouldn't suggest you to go there, they are not very trustworthy (you can only trust McDonald's). The further you go the harder it gets to have a good meal.
But inside Sergiev Posad city it is very easy to get good food. Around the lavra there are many cafes and restaurants. I recommend to stop by Varenichnaya and have a meal there.
At Pirogov Reservoir and Torbeevskoye lake there are restaurants at the beaches.
Sleeping – Where to spend a night
If you go for the whole weekend it makes sense to stay in Sergiev Posad or in Torbeyev. There are several hotels in the city, prices are about the same everywhere – from 2 500 rubles for a double room.
Find a hotel to stay on booking.com
My experience
I went to Sergiyev Posad few times and I find it a very nice city! The first time I went there it was Monday and I didn't check in advance that all the museums close their doors every Monday. But anyway I liked the Lavra and the churches there so it was still worth coming. Anyway I can say that a one day visit is enough for the town. The second day of the weekend will be good to visit all the places in the neighborhood. And in a hot weather many of my friends go to Pirogovskoye reservoir so I guess it isn't a bad place. But honestly I haven't been there myself.
Be aware!
The further you go from Moscow the less English locals speak.
I recommend you to read my posts Do they speak English in Russia and 5 essential apps to feel more comfortable during the trip.